L'approvisionnement en toute simplicité
Les processus d'approvisionnement et de passation de marchés peuvent souvent être longs et compliqués. Nous avons travaillé dur pour mettre en place des outils d'approvisionnement qui peuvent vous aider à accéder facilement et efficacement à nos services.
Cartes de crédit d'entreprise
De nombreux clients utilisent simplement l'option de carte de crédit parce que nos prix sont généralement inférieurs aux limites de carte de crédit d'entreprise et aux seuils de fournisseur unique.
Empty space, drag to resize
Offres à commandes, fournisseur attitré et arrangements en matière d'approvisionnement
Nous avons également de nombreuses offres à commandes, des arrangements de fournisseurs officiels, des arrangements d'approvisionnement et d'autres mécanismes qui sont à votre disposition. Ces ententes sont conclues entre l'acheteur et Rutherford McKay Associates Inc. (alias Trustmakers / Artisans de la confiance).
Ces mécanismes peuvent être utilisés par les personnes et organisations de la fonction publique, le secteur parapublic et le secteur sans but lucratif :
Empty space, drag to resize
Gouvernement du Canada
1. ProServices
Formation et services de consultation en communications offerts dans le cadre du volet 10 – Services de gestion de projet, catégorie 10.11 Conseiller en communications
Empty space, drag to resize
2. Nous avons également des offres à commandes et d'autres ententes contractuelles avec :
Agriculture et Agroalimentaire Canada
Vérificatrice générale du Canada
Agence canadienne d'inspection des aliments
Élections Canada
Santé Canada
Agence d'évaluation d'impact du Canada
Ressources naturelles Canada
Bureau de l'ombudsman des vétérans
Agence de la santé publique
Service des poursuites pénales du Canada
Services publics et Approvisionnement Canada
Gouvernement du Nunavut
RFP 2023-18, SOA, Development and Delivery of Professional Development, Occupational and Computer Courses, Nunavut (Élaboration et mise en œuvre de cours de développement professionnel, de cours professionnels et de cours d'informatique, Nunavut)


Rutherford McKay Associates Inc. est un fournisseur de formation offerte par

la Division de la formation de la fonction publique

du ministère des Ressources humaines.

Les ministères et organismes du gouvernement du Nunavut continuent également de conclure des ententes directement avec nous pour offrir des services de formation à leurs dirigeants et à leur personnel (communiquez avec nous pour prendre des dispositions).
Empty space, drag to resize
Note that our popular Media and Communications Training program is currently being adapted for delivery in Inuktitut. We expect this program to be available in the fall of 2023.
Gouvernement de l'Ontario : Approvisionnement Ontario
Si vous êtes membre de la fonction publique de l'Ontario ou du secteur parapublic (voir ci-dessous), vous pouvez accéder aux services de Rutherford McKay Associates (alias Trustmakers) par l'entremise de cette entente avec les fournisseurs attitrés.
Empty space, drag to resize
Organismes déjà inscrits auprès de Approvisionnements Ontario et en mesure d'utiliser leurs arrangements :
Municipalités (cités, villages, comtés, cantons)
Collèges et universités
Conseils scolaires et écoles
Organismes sans but lucratif
Agences
Exploitants du réseau d'électricité
Services de police
Services à l'enfance et à la famille et les organismes d'intégration communautaire
Organismes de santé et de services sociaux
Bibliothèques publiques
Opérateurs/autorités de transport public
Organismes de sport
Offices de protection de la nature
Empty space, drag to resize
For individuals
Gain trust and support for your work by improving your public speaking abilities. By learning to simplify complex topics, you can communicate effectively with all audiences and build your credibility.
For organizations
Win support by becoming experts at handling media relations, learning to think strategically and stopping PR issues in their tracks with a no-nonsense approach to navigating media relations.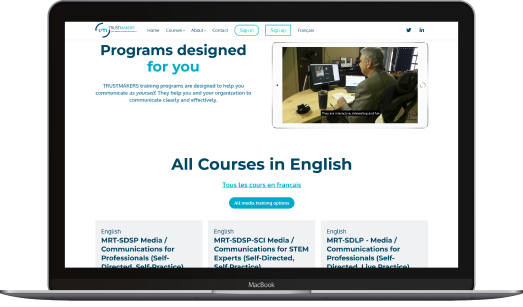 Expert support
Our in-depth courses were built by training professionals with over 20 years of experience helping STEM experts and researchers to improve their communication abilities.
Easy-to-access
Each course is designed to be convenient, interactive, and flexible. Accessible via an online training portal, you can complete your training on your own schedule.
Created for you
Supplement your training with one-on-one support from experts, including former reporters and public speakers, focused on your unique needs.