Procurement made easy
Procurement and contracting processes can often be lengthy and complicated. We have worked hard to put in place procurement vehicles that can help you to easily and efficiently access our services.
Many clients simply use the per-person credit card option because our prices are usually under corporate credit card and sole source limits.
Empty space, drag to resize
Standing offers, vendor of record and supply arrangements
We also have many standing offers, vendor of record arrangements, supply arrangements and other vehicles that are available to you. These arrangements are made between the buyer and Rutherford McKay Associates Inc. (a.k.a Trustmakers / Artisans de la confiance).

Some of these arrangements can be used by many people and organizations working in the public service, broader public sector, and the non-profit sector:
Empty space, drag to resize
Government of Canada
1. ProServices
Communications training and consulting services available through Stream 10 – Project Management Services, Category 10.11 Communications Consultant
Empty space, drag to resize
2. We also have standing offer and other contractual arrangements with:
Agriculture and Agri-Food Canada
Auditor General of Canada
Canadian Food Inspection Agency
Elections Canada
Health Canada
Impact Assessment Agency
Natural Resources Canada
Office of the Veterans' Ombud
Public Health Agency of Canada
Public Prosecution Service of Canada Public Services
Procurement Canada
Government of Nunavut
RFP 2023-18, SOA, Development and Delivery of Professional Development, Occupational and Computer Courses, Nunavut
Rutherford McKay Associates Inc. is a provider of training offered through the Public Service Training Division of the Department of Human Resources.
GN departments and agencies also continue to contracted with us directly to offer training services to their leaders and staff (contact us to make arrangements).
Empty space, drag to resize
Note that our popular Media and Communications Training program is currently being adapted for delivery in Inuktitut. We expect this program to be available in the fall of 2023.
Government of Ontario: Supply Ontario
Empty space, drag to resize
Organizations already registered with Supply Ontario and able to use their arrangements, include:

municipalities (cities, towns, counties, townships)
colleges and universities
school boards and schools
non-profit organizations
agencies
electricity system operators
police services
child and family services and Community Living organizations
health and social services organizations
public libraries
public transportation operators/authorities
sport organizations
conservation authorities
Empty space, drag to resize
For individuals
Gain trust and support for your work by improving your public speaking abilities. By learning to simplify complex topics, you can communicate effectively with all audiences and build your credibility.
For organizations
Win support by becoming experts at handling media relations, learning to think strategically and stopping PR issues in their tracks with a no-nonsense approach to navigating media relations.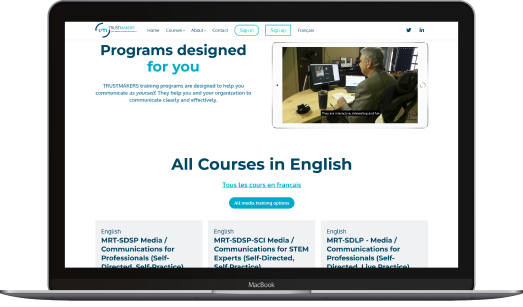 Expert support
Our in-depth courses were built by training professionals with over 20 years of experience helping STEM experts and researchers to improve their communication abilities.
Easy-to-access
Each course is designed to be convenient, interactive, and flexible. Accessible via an online training portal, you can complete your training on your own schedule.
Created for you
Supplement your training with one-on-one support from experts, including former reporters and public speakers, focused on your unique needs.